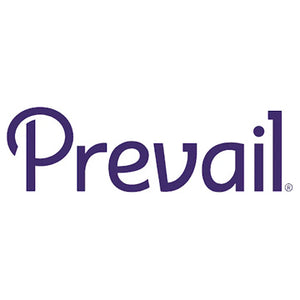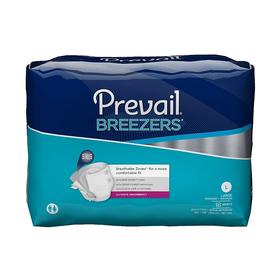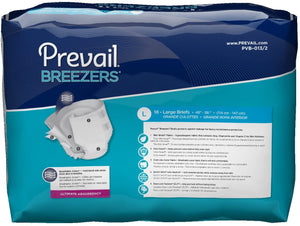 Prevail Ultimate Absorbency Brief
Prevail Breezers feature a breathable, cloth-like outer fabric, offering the wearer unmatched comfort and discretion. In addition to being comfortable and discreet, Breezer Briefs feature an Easy-Lock Fastener, ELF, that allows a softer and more maneuverable small flap to ensure a successful closure. On top of its innovative design, this Prevail brief offers Odor Guard, a technology that will reduce and prevent embarrassing odors. Quick Wick will quickly wick fluid away from the body and pull it into the brief, keeping the wearer's skin dry. To further protect the user's skin, Breezers features an advanced zoning system, dedicating acquisitional zones for feces and urine. Not only does this help to protect the skin, but it further enhances user comfort.
All Prevail products are latex free, hypoallergenic and scent free.

Sizing & Packaging:

Medium Breezer - 32"-44" - 6 bags of16/case (96 ct.)
Regular Breezer - 40"-49" - 4 bags of 20/case (80 ct.)
Large Breezer - 45"-58" - 4 bags of 18/case (72 ct.)
Bariatric - 73"-100" - 4 bags of 10/case (40 ct.)
X-Large -59"-64" - 4 bags of 15/case (60 ct.)
Shipping + Returns

Most orders are processed between one and two business days. All items are shipped in plain brown packages with our return address label and your address. There is no indication of what type of products are inside the package


If you would like to return your order for any reason, please contact us for a 'Return Authorization Number'. All items returned must be in the original packaging and in resale condition. Please note, returns will not be accepted without a 'Return Authorization Number'. All refunds must be approved by Quality Life Services. For additional information, please contact info@qualitylifecares.com.

Help

We would love to assist you the best way we can.

If you have any questions about products, shipping, or have any general inquiries, please contact us and we would be happy to assist you.