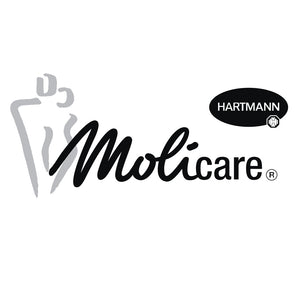 MoliForm Pads - Soft Cloth
LIMITED QUANTITIES
Discontinued Item # - New Item is MoliCare Premium Form Pads
Moliform is an anatomically shaped incontinence pad with Dry-Plus-layer, superabsorbent and wetness indicator. It is suitable for use in both bedridden and active, mobile patients. Its variety of available sizes and its four absorption capacities make Moliform an exceptionally versatile incontinence management system which can be used in all degrees of incontinence. It gives each type of patient the necessary protection, as well as a feeling of security and well-being.
Features:
In the groin area the pads have a reinforced absorbent layer which guarantees high absorbency and excellent moisture retention.
A non-woven, water-repellent top layer, which covers the entire surface, helps to protect the skin and to keep it drier.
Soft, water-repellent anti-leak cuffs provide additional leakage protection at the sides.
The impermeable, non-slip cloth-like backing protects bedding and clothing against soiling.
Benefits:
The anatomical design and the elastic leg gathers ensure a snug fit to the body contours.
The word Moliform in the groin area is also the wetness indicator.
Description:
Normal - 4/30 per case
Plus - 4/30 per case
Extra - 4/30 per case - out of stock - order 168406
Super - 4/30 per case
Shipping + Returns

Most orders are processed between one and two business days. All items are shipped in plain brown packages with our return address label and your address. There is no indication of what type of products are inside the package


If you would like to return your order for any reason, please contact us for a 'Return Authorization Number'. All items returned must be in the original packaging and in resale condition. Please note, returns will not be accepted without a 'Return Authorization Number'. All refunds must be approved by Quality Life Services. For additional information, please contact info@qualitylifecares.com.

Help

We would love to assist you the best way we can.

If you have any questions about products, shipping, or have any general inquiries, please contact us and we would be happy to assist you.