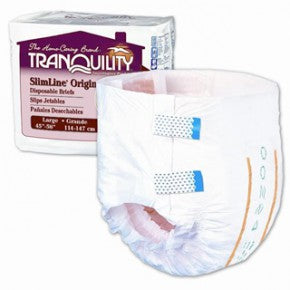 Tranquility SlimLine Briefs
Plastic backed SlimLine® Original briefs conform to the body for a comfortable fit while providing superior absorbency.
The peach core contains super absorbent polymers which guarantee skin dryness, odor reduction and urine pH neutralization.
The wetness indicator turns from yellow to blue when moisture is present, thus eliminating unnecessary changes and reducing costs.
Kufguards®, inner leg cuffs, channel fluids into the core, helping to contain high volume urge episodes and bowel incontinence.
Description
Junior (cloth-like exterior) - Fits 28 to 42 lbs - Cap. 10.2 oz - 10 bags of 12/case
Youth (cloth-like exterior) - Waist/Hip 18"/26" - Cap. 10.9 oz - 10 bags of 10/case
Small - Waist 24" Hips 32" - Capacity 12.7 oz/374 ml - 10 bags of 10/case
Medium - Waist 32" Hips 44" - Capacity 20.4 oz/602 ml - 8 bags of 12/case
Large - Waist 45" Hips 58" - Capacity 21.4 oz/632 ml - 8 bags of 12/case
X-Large - Waist 56" Hips 64" - Capacity 23.7 oz/702 ml - 6 bags of 12/case
XL+ Bariatric - Waist 64" Hips 90" - Capacity 34.0 oz/1005 ml - 4 bags of 8/case
Shipping + Returns

Most orders are processed between one and two business days. All items are shipped in plain brown packages with our return address label and your address. There is no indication of what type of products are inside the package


If you would like to return your order for any reason, please contact us for a 'Return Authorization Number'. All items returned must be in the original packaging and in resale condition. Please note, returns will not be accepted without a 'Return Authorization Number'. All refunds must be approved by Quality Life Services. For additional information, please contact info@qualitylifecares.com.

Help

We would love to assist you the best way we can.

If you have any questions about products, shipping, or have any general inquiries, please contact us and we would be happy to assist you.